Financial Q&A - Expert Advice from Financial Professionals
BrightScope Advisor Pages and Financial Q&A provide investors with the tools necessary to make better financial decisions. Ask a financial question and receive free advice from a registered financial advisor in your area. Read financial articles published by advisors to enhance your knowledge on various financial topics. Select an advisor who best fits your needs. The brief tutorial below will help you get started!
Login or Register with BrightScope
Registration is free and allows you to receive optional updates on your financial questions. If you have already registered, login to the site using your email address and password. Forgot your password? No problem! Just click "forgot" on the login page.
Sign On Now

Ask a Question
After registering, you may ask a question on the homepage by clicking "See All Answers" to be directed to the Q&A landing page. On the Q&A landing page, you can click the green "Ask a Question" button. Additionally, at the top of any Q&A page you may ask a question by entering text into the search bar. When entering a new question, the search bar will automatically find similar questions that have already been asked, making it easier to find related questions and answers.
Ask a Question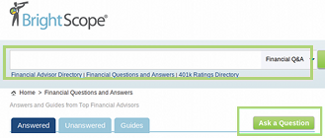 Share Answers and Financial Articles on Social Media
If you like an answer or a Financial Article, upvote it and share it on social media. Sharing quality content with your personal network will increase the financial wisdom of your friends and family. Is there is a question or answer feed that is particularly helpful? You can also share a webpage on Twitter, Facebook, LinkedIn and other social networks!